*First off this one's called the "Rhodie trip" because of all of the blooming Catawba Rhododendrons- there were everywhere and absolutely gorgeous!*
This past weekend I headed just west of Clayton, GA where I met up with my good friend Cindy and Neitch (her loyal canine) to hike into the wilderness on the South Carolina side of the wild and scenic Chattooga River. Thunderstorms were forecasted, but we stayed dry for the most part aside from a freak storm that we heard quickly approach as we were sleeping Saturday night. It's quite a different experience to hear feel a storm approaching out in the wild versus in the comfort of your home.
On this trip we hike north from the SC 28 trailhead about 3.5 miles to Ira Branch Creek to set up camp. From there we dropped our packs and headed out on a quick 2 mile out-and-back to the falls on Lick Log Creek. Why it's called that I have no clue. It was quite nice though and we could access the river. The water was suprisingly warmer than I thought it would be.
After dinner (mac 'n cheese with peas and tuna) and braving the storm (it really wasn't too bad) we crashed and then I woke up early to make a stack of blueberry pancakes. I had been eating some semi-ripe blueberries (and blackberries) along the trail, but I happened to bring in some fatties of my own for this b-fast. We then did a good 5-6 mile dayhike to another nice spot on the river and were able to chill out and relax there for awhile. It was quite nice to have the earth snuggled up around us as we dipped our legs in the comforting Chattooga.
After that we packed up camp and hiked the 3.5m back to the car. All-in-all we probably covered about 15 miles in two days. The trail and campsites were a lot nicer than I imagined they'd be too. Quite a nice trip. Also if you're hungry while driving through Clayton, be sure to stop by "The Mexican Store" on the right side of 441 when entering town- so good, and cheap!
Oh... and did I mention the plants on this trail?!
Trail tree #1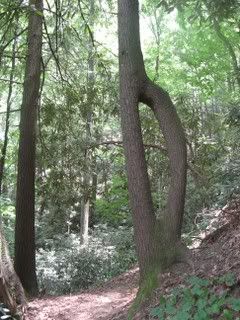 Trail tree #2 (The "number 4 tree")
Flowering Wintergreen
Catawba Rhododendron were blooming everywhere
Riverside native azalea
Click beetle (thanks Susan!)
Woman's best friend (and two of my best friends)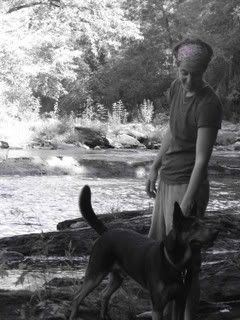 Bark beetle victim?
Placid river