Firepink and Azaleas! That's what I would title this hike. The firepink wasn't everywhere, but it did show itself in numerous rocky areas along the Appalachian Trail this past Sunday. Native azaleas were much more abundant and ranged in color from a buttery yellow to orange to a deep red. All in all it was a great hike and totalled about 11 or 12 miles depending on which trail signs/maps you read. A solid 6 hour hike with plenty of stops.
We started at the Woody Gap trailhead off GA-60 just north of Dahlonega and hiked over and around a few ridgetops all they way to Jarrard Gap. The first section is relatively flat, then climbs steeply to a great view on the two rock outcrops on Big Cedar mountain. Great views to the watershed below. After that we hit a few more high points and some long gently sloped sections mostly under the cover of deciduous hardwoods.
I just found a great site with VERY detailed info on the AT in Georgia including mileage, sidetrails, water sources, campsites, etc. Check it out:
http://www.hike-usa.com/at-georgia/
.
This will definitely come in handy when I plan future hikes.
Pix to come soon (Thanks Kat!)
fresh legs
first wildflower- Firepink!
One of many blooming Mountain Laurel shrubs (Kalmia latifolia)
Is this a "trail tree"? ...here's info that I found online regarding the mysterious trees:
Many years ago, the people native to this area, navigated through the Mountains, using an elaborate system of trail markings. The trunks of oak trees were purposely bent to point in a given direction, indicating, food, water, safety, etc....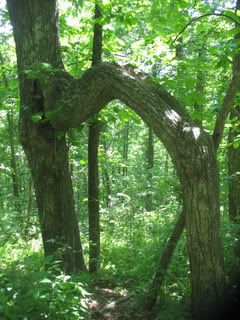 1st azalea (Flame Azalea)
2nd azalea (maybe "pinxter"?)...notice the spot of yellow on each bloom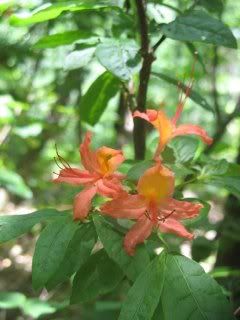 friendship rock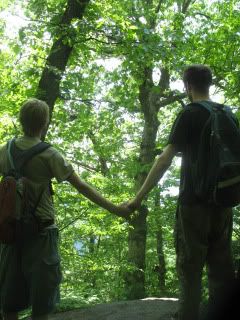 this guy attempted to get nectar from my pack for a good 5 minutes
Only halfway!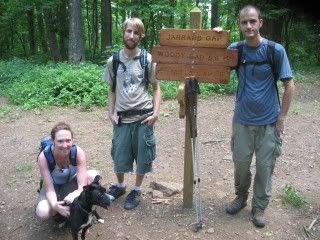 ...I hope to do this section again sometime but as a through hike up Blood Mountain and down to Neel's Gap. Any takers?