29 December, 2008
Lots of fun Christmastime festivities and such... this had to be our poorest, but most fun Christmas ever! It's really true that friends and family are worth so much more than money!
Mike and Mary's holiday party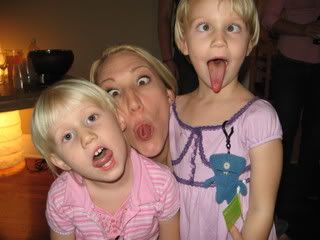 that's straight gangsta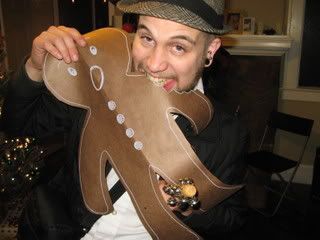 Casey looks hilarious here!
Dickerson Christmas begins...
Rad quarry in front of my cousins/aunts/uncles house
Title defending champions!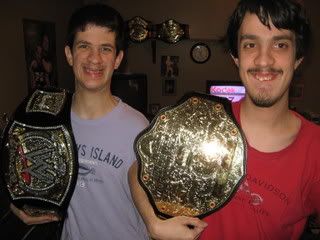 Sunrise and dad's new camper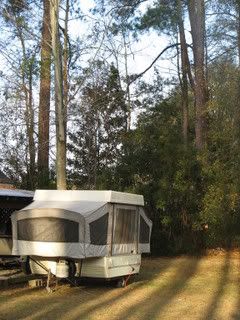 Mimamma! Mid-eighties and still kickin' it!
House. Party.
Family Christmas Picture 2008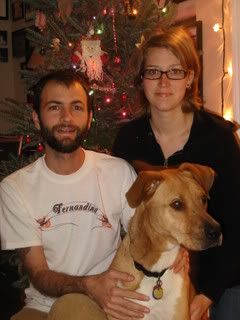 Posted by

skyrocket
at 1:31 PM
No comments:
Links to this post


I recently came across a list of "
champion trees inside I-285
" on the Trees Atlanta website. Mattbott and I had already begun searching for big trees in patches of old growth spread around this city and now we've officially got a challenge on our hands. This list is a couple of years of and some of the information is unreliable in my eyes (with landowners wanted to claim ownership of trees for personal recognition and the rounding of measurements to the nearest foot on CBH, etc...), so we've decided to take up the task of creating a new list. One of our first trips was to a nice cove on the Emory campus...
Large Oak species (Black Oak?) right on Houston Mill
This was really a fun exploration for us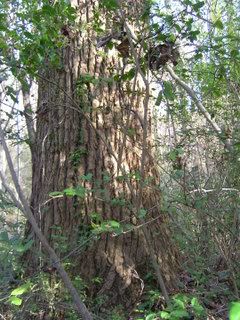 Rare native Star Vine (
Schisandra glabra
)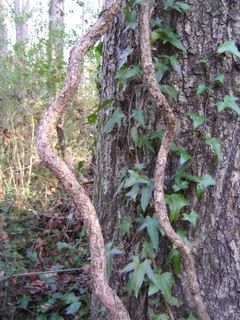 My new favorite Tulip Poplar- "Castle Grayskull". This is the largest (CBH) of the species that we've found in the city without any significant flaring/galls/caves at the base.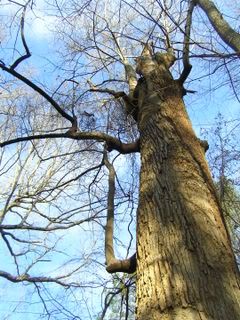 Felled beech tree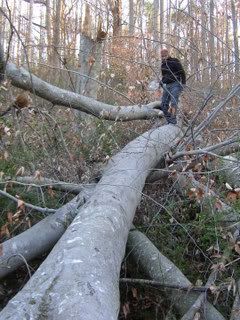 Devil's Walking Stick mini-forest
This was a truly rad trip. There's tons of nooks, crannies, old growth, rock ledges, wildflowers, historical stonework, etc... to see.
Posted by

skyrocket
at 12:56 PM
1 comment:
Links to this post


14 December, 2008
Speedy, Roly Poly, and me (Mappy) took a much needed 10 mile hike in the North Georgia mountains today. It was overdue to say the least. We opted for the Hike Inn trail at Amicalola. It's very rolling and not too difficult (much to Roly Poly's liking). I really recommend this trail and this Inn to anyone looking to make a quick escape from the city. At 75 miles from Atlanta it's a great spot for a dayhike or a weekend trip.
view from the top of Amicalola Falls- highest falls in Georgia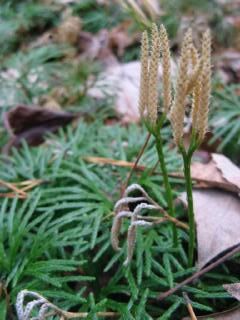 ground pine and seed heads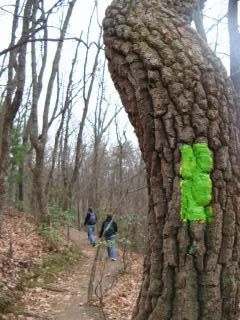 this trail is EXTREMELY well maintained with bright green blazes all along the way and nice spots to stop and catch your breath while enjoying the view with nice wooden benches built on the mountainside. There's even mile markers!
on the porch at the Hike Inn... the staff even invited us in for cider, hot chocolate, and cookies and let us thaw out by their wood stove!
view from the porch
Can't wait to go back and hopefully stay the night at the Hike Inn.
Posted by

skyrocket
at 6:41 PM
No comments:
Links to this post


24 November, 2008


Joyce Kilmer Memorial Forest- Hemlock and Tulip Poplar
Matt and I made the 3.5 hour trek to this magnificent forest just west of Robbinsville, NC yesterday to see possibly the largest remaining grove of old growth Tulip Poplars (Liriodendron tulipifera) in the world. It was well worth the drive!
We measured quite a few trees- mostly Tulip Poplars, but also an oak and hemlock for kicks. The Tulip Poplars are the ones that really floor you though. Some of these trees are upwards of 400 years old! Here are some quick numbers we got:
Liriodendron tulipifera: Diameter(ft), Circumference(ft)
6.9**, 21.7
6.5, 20.4
5.9, 18.4
5.6, 17.8
4.2, 13.2
**that's just shy of 7 FEET in diameter 4.5 feet up the trunk** you could probably drive my FIT through that!!
Tsuga canadensis: 3.7, 11.8
Quercus falcata (?): 4.4, 13.7
I just can't get enough of these pictures, and yet they still don't do justice to the size of these relic trees!

these "twin" giants were exactly the same diameter and could have (theoretically) germinated the same year- around 300-400 years ago! Some scientists think there was a catastrophic event around 1550 that leveled the forest and allowed for the diverse seed bank to start this giant forest at that time.

another medium size Tulip Poplar
Matt in awe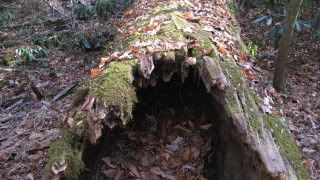 there were enormous downed logs like this all over the place supporting an entire ecosystem on their trunks- lichen, mosses, ferns, shrubs, small trees, fungus, even a baby hemlock tree amongst a clump of ferns and club-moss
isn't this a huge birch root that Matt is trekking up?!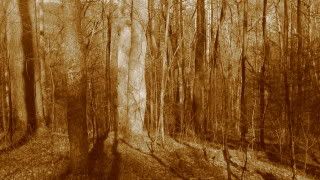 forest view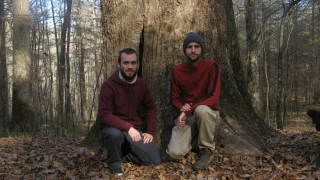 robot loving tree huggers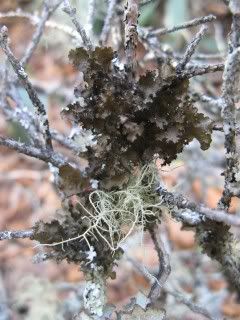 lichen in a fallen (dead) hemlock branch
you have to wonder what aerial ecosystem exists in the canopies and branches of these ancient hemlocks. little research has been done to my knowledge. researchers just started visiting the tops of these trees in the last 10-15 years, mostly to measure them and help provide more reason for protecting them... after reading
The Wild Trees
it sure makes me want to know more about the canopies of our eastern temperate rainforest trees!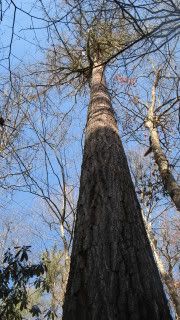 This is a hemlock on it's last leg
The Hemlock Woolly Adelgid (HWA) has decimated this forest- even after a release of predator beetles a few years back. It's truly sad to see these forest giants quickly go the way of the Chestnut trees. And only humans are to blame.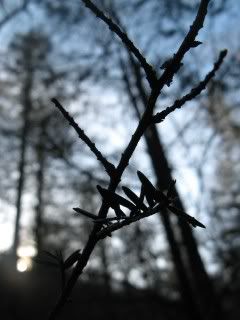 only a few needles (at best) were left on most hemlocks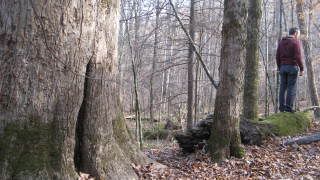 while I was admiring the main trunk of this Tulip Poplar, I heard Matt say "...that's an arm". That was the very moment he realized the log he was walking on was actually a fallen branch from the monster Tulip Poplar- not another fallen trunk of a tree!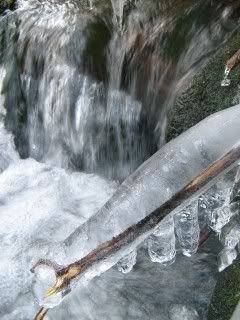 Temp's had been pretty cold leading up to our adventure (single digits a few days back) as evidenced by these frozen rhododendron roots in Little Santeetlah Creek.
knarly branches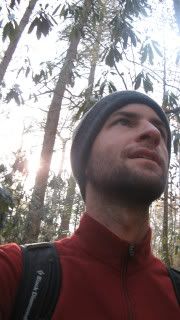 me in awe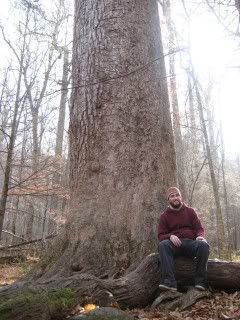 a medium sized one
some trees were so big that going around them was a hike in itself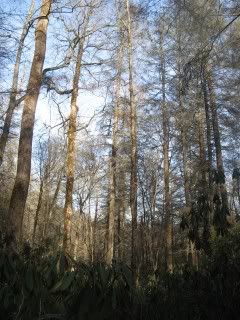 forest view on the way out.
What a great day!
To find your way to Joyce Kilmer Memorial Forest, visit this site:
http://www.cs.unca.edu/nfsnc/recreation/joycekilmer.pdf
Posted by

skyrocket
at 10:01 AM
4 comments:
Links to this post